PADI Americas is rolling out the next generation in electronic dive planning – the Electronic Recreational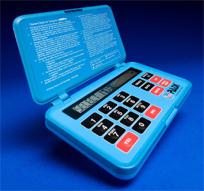 Dive Planner, Multilevel version (eRDPML). Developed by Diving Science and Technology (DSAT) and distributed by PADI, the new product makes planning single depth and multilevel dives easier than ever.
The eRDPML is not a dive computer, but an electronic dive table that allows you to plan single depth and multilevel dives. While the first generation eRDP provided the same information as the Recreational Dive Planner (RDP) Table version, the eRDPML provides the same information as PADI's multilevel dive planner, The Wheel®, only in an electronic format.
"The eRDPML is the best thing since sliced bread, indoor plumbing, thinking-outside-the-box, Got Milk? and any other cliché you can mindlessly rattle off," says Karl Shreeves, DSAT Technical Development Executive. "From a diving point of view, I love it because it gives you dive table dependability with calculator simplicity. For new divers, and even some experienced ones, mastering dive planning is now quick and easy. And, for PADI Instructors, this translates into more practical time in the water and less time reviewing tables in the classroom."
The eRDPML includes some great, new features:
* the ability to plan single depth and multilevel dives
* a new flip cover design with the General Guidelines clearly displayed inside
* a user-friendly interface with large keys and a wide display window
* a compact user manual positioned under the device
* operates in imperial or metric
Whether you're a seasoned dive professional or someone who just loves diving, you'll find the eRDPML is easier to use than conventional dive tables and can increase bottom time by allowing dive planning in two meter/five foot increments.
Start planning your multilevel dives the easy way, with the new eRDPML. PADI Members may order the new eRDPML today by contacting their regional manager or sales consultant at their local PADI Office. To find out how you can take advantage of all PADI's innovative products and services, contact Jeff Nadler , PADI Americas International Resort and Retailers Associations manager at +1 949 858 7234, ext. 2660.
Others promise…PADI delivers.
More Scuba Diving News