Posted by Scuba Herald at 2:18 pm 0 Comment Print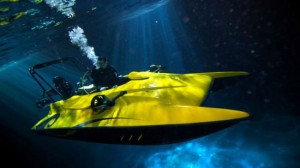 There are 2 type of people that will buy the scubacraft… divers with a lot of money …. and divers with a sick amount of money…. . Regardless on which group are, this could be the most difficult "scuba product" to justify as a "must", but hey! it Looks pretty amazing, don't you think?
The Scubacraft SC6 is a 250 horsepower, 50mph, 6-seater surface speedboat with the ability to dive below the waves at the touch of a button and become an open-top submarine capable of reaching depths of almost 100 feet (30 meters). More or less something you expect to see in Gi-Joe or the next James Bond Movie…
Based on Gizmag, "Before you submerge, you'll have to put your scuba gear on, and once you're in the drink, a separate electric propulsion system powers you along at a more sedate 3 knots, for up to 90 minutes. Being a 6-seater, it's the sort of thing that would work well in the arsenal of a tour operator or leisure resort; you could use its quick, manoeverable trimaran shape to get your passengers to the dive spot in speed and style, then don the scuba gear and drop under for an unforgettable underwater cruise."
So the question is: How much this beauty cost? Well. for sure more than a normal DPV and a little bit more than your normal convertible.. the price tag goes over 100.000 british pounds, but who really cares? This will give you the ride/dive of your life and for sure!
Check it out at: http://www.scubacraft.com/