Posted by Scuba Herald at 7:21 am 0 Comment Print
We are always trying to find really new amazing destinations: and for sure, the Philippines comes in mind… so what about an exotic destination once you arrive to the Philippines… well think Malapascua
Scuba Herald had a chat with Zoe from Exotic Dive Resort
Question: Zoe, Thanks for your time ,and to start… tell us a bit about yourself, and how did you end up living in one of the best diving destinations in the world.
I first started diving in Utila, Honduras back in 1998. I fell in love with the sport but returned to the UK to finish my studies. I returned to Utila in 2001 with the aim of becoming a PADI instructor at this time I was lucky enough to meet my future husband Tim, who was also starting his diving career. After we both successfully completed our instructor course we worked in Utila for a year and half before the travel bug got the better of us. The thought of returning to the 'real world' was never really an option so we travelled to places where we knew the diving was plentiful. Over the years we have been lucky enough to work as instructors and dive shop managers in Cyprus, Egypt, Thailand, Nicaragua and the Philippines.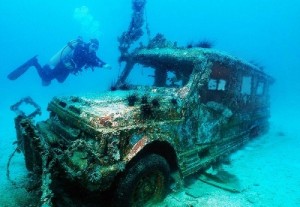 We first came to Malapascua in 2004, having left Thailand with no money we took the first instructor job that was offered to us; which just happened to be at Exotic Dive Resort. We honestly had no idea where Malapascua was or how to get there, but we agreed to start within the week. We flew into Cebu City and managed to navigate our way to the north bus terminal where we took the last bus to Maya. We arrived at Maya 4 hours later in the dark and were lucky enough to catch a fishing boat heading towards Malapascua. They deposited us on a stretch of beach in the pitch black. A few locals pointed us in the right direction and we found our way to Exotic Resort. The following morning we woke up to a spectacular sight. The most amazing white sand palm fringed beach with tropical blue waters anyone would want to see. We happily called this place home for a year, before we headed back to the Caribbean island of Little Corn, in Nicaragua. We stayed in contact with Exotic for the 2 years we lived on Little Corn and when we fell pregnant with our first child, there was no hesitation at all in calling up Exotic and saying we were coming back and this time with family.
We were welcomed back with open arms and warm smiles and have been happily managing Exotic Dive since 2006.
Question : Zoe tell us a bit about the history of Exotic Diver Resort….
In 1998 Dik de Boer a Dutch National and his Philippine wife Cora, spent some time travelling around the Philippines looking for their ideal beach get away. They heard about Malapascua from locals of Cebu and made the trek north. Upon arriving on the island they were regaled by tales of leaping sharks, war wrecks, sunken islands and weird and wonderful sea creatures. Being avid divers they vowed on their next trip to bring a small compressor and their dive equipment. On their return a few months later and while Cora was searching for the perfect beach spot Dik and his friend Mikael Person went diving.
They were amazed; all the stories were true, leaping thresher sharks, giant manta rays, wrecks and stunning soft corals housing a wide variety of sea life. That was all they needed to know to open a small dive shop. Exotic was the first dive resort and officially opened its doors in 1999.
Since then Exotic has grown from a small 4 roomed hotel to an internationally acclaimed 33 room 5* resort. The dive shop has also expanded from a small PADI shop to the largest and only 5* IDC National Geographic Dive Resort. "Even though we are big we still pride ourselves on individual service and maintain that small dive shop charm, we will never forget where we came from" Dik de Boer.
Question: Why Malapascua and what it the special secret of this area of the Philippines ?
For me Malapascua has a little bit of everything. The diving is world class I saw my first sea horse here, in fact my divemaster showed me 12 on one dive after I explained I had never seen any before. This is the place where you can tick off the list of strange creatures that you don't normally get the chance to see. On top of that the thresher sharks are amazing and you can honestly see them every day! The dive conditions change constantly which makes the same sites interesting and sometimes challenging. The local islanders are wonderful people and love tourists. They are not yet jaded by the idea of tourism and have not been exploited as is the case in other regions. Smiling faces, friendly waves and welcoming smiles are how the tourists are treated. So to clarify the diving is exceptional and the locals are lovely, really what more do you want from a diving holiday!
Question: Tell us something the general diving community may not know about diving in Malapascua?

Malapascua is famous or one thing – thresher sharks. This is what the whole diving industry is based on. The nice thing though is that the sharks are only the tip of the iceberg. There is so much more to see here and divers are constantly surprised by the variety of animal life. Admittedly we do not have many large schools of fish as this is a heavily fished area. However we have more macro life, soft corals and strange creatures than any other place I have ever dived. The diving conditions can be taxing and the same dive one day is totally different the next. Soft corals thrive in strong currents and we have a lot of soft corals!! The visibility is also not fantastic here; we get a lot of divers who expect to jump into 30mt vis every dive. Average vis her e is 12mts, and honestly that is more than enough when you are focusing on macro life and looking at 2mt thresher sharks that are right in front of you. This place is a photographers dream and should not just be famous for the sharks.
Question: We know that recently you become a PADI IDC Center. What future instructors can expect of their PADI IDC at Malapascuba? do you see the Philippines as the next Scuba Career Destination ?

We were recently granted IDC status and are proud to be the first IDC resort on Malapascua. Our philosophy for IDC's is small groups, relaxed environment, professional and personalized service and of course fun. Unlike a lot of IDC centres we are not in it to make a fortune our aim is to produce competent and confident instructors. We offer all our candidates a free 6 week instructor internship where they work alongside our experienced instructors. Through this process we feel it gives the candidates a chance to understand the real world of teaching after an IDC. Tim is our Master Instructor and assists on every aspect of the IDC. He is the person who conducts the prep days and the AI portion of the course and is basically there to be a friend to the candidates and to help them with any queries concerns or issues that may arise. Jonathan is our Course Director; he is one of the most experienced course directors in the Philippines and has certified over 1000 instructors. His calm demeanour and jovial manner create a nurturing environment for the candidates. We pride ourselves on our personalized service and guarantee success to all our candidates.
I honestly believe that the Philippines is becoming the new scuba career destination. People are no longer enamoured by the draw of Thailand and Malaysia, places where they 'pump out' Instructors. I've worked in these places and while they are good for the average backpacker on a budget more and more professionals are looking at changing careers and do not just want to be another one of the masses. As a relatively new diving destination most IDC centres in the Philippines average 4-6 candidates an IDC. To me this is perfect, much better than being in a class of 20! As the region is still new to tourism it is still possible to get the 'budget' experience but without the crowds and hawkers you expect to find in the more touristy places!
Question: What is your best advise for someone planning their diving holidays to the Malapascua?
For the already certified diver coming to Malapascua make sure you bring plenty of memory for your camera and plenty of batteries for you dive lights! I would recommend staying at least 5 days to be sure to see all the highlights. And in order to be totally satisfied with a thresher shark encounter you will need to be up early every morning until you are happy!! Email us at Exotic and let us know what you are interested in seeing and I will tell you the best time of year for an encounter. For those looking to begin diving, this is a great place to learn, but I advice all potential open water divers to give themselves enough time to do the advanced as well, that you way you can go look for the thresher sharks and manta rays. The diving season in Malapascua is all year round, with the most variety of life during February to May. A practical suggestion to all future visitors is be aware there is no bank or ATM on the island and only the larger resorts such as our selves accept credit cards. Many a visitor has been caught on by this one!!
Question: What is a normal day in the life of your dive resort?
A day in the life of Exotic. The first boat leaves between the horrific hours of 5-6am. This is for the thresher sharks. Luckily for me we have an excellent boat crew so I do not need to be here to supervise things. My day begins at 8am when I welcome back the early morning boat and find out who had a successful sighting and who didn't. The second boat leaves around 9am for either a 2 dive day trip or a single island dive. Once the boat has left my morning is spent sorting through and answering emails about diving, courses and possible safari trips. I check with the instructors to make sure their students are all ok, and greet any new diving guests giving them an orientation to the dive shop and explaining all our dive sites. The morning boat returns around lunch time, where I again greet the divemasters and divers and see how everyone's dive went. As I don't get to dive so much anymore being the manager I like to live vicariously through our guests diving experiences, and am always happy to look through the photos and help them identify the strange creature that they saw. The afternoon boat leaves around 1pm and if I can I jump aboard and go diving, if not then my afternoon is spent planning the next day's diving schedule making sure all our divers have been signed up and that everyone is happy. I also like to spend time talking with the divemasters to make sure that they are happy and their customers are seeing what they want to see.
As a diver myself I understand the importance of having a good local guide and we try to match divers to their guides and then keep them together for the customer's entire holiday. The boats all return around 4pm and if there is no night or dusk dive scheduled then the equipment is all rinsed and put away, the dive schedule confirmed for the following day and then happy hour drinks with the customers in the beach side restaurant. I normally head home around 6pm having made sure that everything is organised for the following morning. I work long days, 7 days a week and am lucky enough to love my job!
Interested in divnig with Exotic ?
Check their site today at http://www.malapascua.net
Scuba Industry dive Malapascua, exotic diver, Exotic Diving, scuba diving in the Philippines