I want to Kill my wife, while Scuba diving….
Posted on June 13, 2009 by Scuba Herald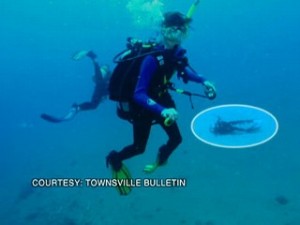 Well, why not? At the end of the day, you can only get 1 year in Jail if you decided to kill your wife in a Scuba Diving Honeymoon. Gosh… because that's what any NORMAL Killer will plan. mmm… let me get married with this wanna-be-scuba-chick and then let's take her to a medium-difficulty wreck (where I can find a place to hide from the group)… and then in the middle of the dive (at 30 meters underwater) let's kill her.
Creeeeepy. But the most creeeepy thing is that this crazy-m***-f**** only gets 1 year in Jail. After Tina Watson never returned from that scuba trip, and now, six years later, David Gabriel Watson (AKA: I'm a crazy , insane, killer) , who pleaded guilty to his wife's manslaughter, has been sentenced to just a year in jail. (Yep, 1 year.. that means if he is lucky we will be free for the World Cup in South Africa in 2012!)
Tina Watson's family is outraged by the light sentence. Her father, Tommy Thomas, said, "I'm sure that the entire Australian nation, as well as our country back home, shares in the shock at what we've just seen, because it's a total injustice. … It's ludicrous."
Thomas told "Good Morning America" last week that he was certain Gabriel Watson had killed his daughter. "He had turned off her oxygen," Thomas said. (To clarify you don't turn off the oxygen, you turn off the Air - anyway)
Like the millions of viewers who saw media reports of the death, Thomas had seen the image of his daughter floating motionless in the water as captured by a tourist's underwater camera. Watson is not in the picture. (Obviously not, the guy was already on the boat celebrating killing his wife). Amazing.
More Scuba Diving News