PADI Americas is rolling out the next generation in electronic dive planning - the Electronic Recreational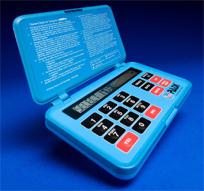 Dive Planner, Multilevel version (eRDPML). Developed by Diving Science and Technology (DSAT) and distributed by PADI, the new product makes planning single depth and multilevel dives easier than ever.
The eRDPML is not a dive computer, but an electronic dive table that allows you to plan single depth and multilevel dives. While the first generation eRDP provided the same information as the Recreational Dive Planner (RDP) Table version, the eRDPML provides the same information as PADI's multilevel dive planner, The Wheel®, only in an electronic format.
The Professional Association of Diving Instructors (PADI) Asia Pacific is proud to announce the finalists of the PADI Asia Pacific Member Awards for 2008. At the end of 2004 PADI Asia Pacific undertook the initiative to build a more rewarding and recognition based benefit program for PADI Members. Continuing the enormous success of the newly revised program, PADI Asia Pacific is proud to run the fourth annual PADI Asia Pacific Member Awards 2008.
The awards recognise excellence and innovation in the Dive Industry and are considered very prestigious.
A panel of key PADI stakeholders met to judge the finalist in each category and the winners will be announced at the PADI Pavilion (Stand J01 & K02) at ADEX 2008 at Suntec, Singapore on Friday 18th April at 5pm along with drinks and canapés.
So we get the whole idea of E-learning.
You connect your PC, you get information about how to dive, you do your little knowledge reviews and then you arrive to the dive center ready to dive…. right? Yep, bye bye the personal contact with an experienced instructor… who needs that? No one. We are too busy… we want things fast and we want them now!
At ScubaHerald we accept technology, hey, this is an online media… so in theory we are supposed to be tech junkies… that's why we decided to go the painful way, we decided to visit PADIs' virtual Island.
First Step: download Secondlife game - go to the kitchen and have a long cup of tea…. yes my friends, that is the first step. To download a long and heavy game that in theory you should not have in your PC unless you are an online reality freak. … so you download the game, you install it and you get ready to join a virtual world where it is easy to get confused or find where to go or what do to. But hey, who cares? This is the world of PADI Virtual Island… where everything is so easy….
We've all seen them; when conducting courses, most of us carry this type of safety equipment to meet standards and many of us may even have sold some. Surface Marker Buoys (SMB)/safety sausages/delayed SMBs. Surface Marker Buoys serve a wide range of purposes, e.g. allowing shore cover / boat support to identify an ascending diver; alerting boat traffic to the presence of a diver; providing a visual reference for ascending divers
Until recently, operation of these devices was left to observation, trial and error, or applied learning was derived from object recovery and lift bag use. Now you can teach divers to safely and competently operate a (delayed) SMB using a new Distinctive Specialty developed by PADI: SMB Diver.
The popularity of SMB use is particularly apparent in areas with heavy boat traffic, or where divers may be drifting in a current. It may also be best practice in your local area. Delayed or DSMBs are also popular where divers are unable to return to the shot line to ascend, or where divers may not have a visual reference once they end the dive.