Thai marine police on Tuesday found the body of a missing scuba diver floating near the site where a boat sunk in a sudden storm after a diving tour to the Similan Islands, leaving six foreigners and a Thai national missing and believed drowned.
"We found the body of a Western woman but we couldn't identify her immediately," Marine Police Lieutenant Colonel Wanlop Phuangbaka said.
The marine police continued a sea surface search for the missing passengers from the Choke Somboon, the company's 29-metre scuba-diving-boat-cum-floating-hotel, that sank late Sunday night in the Andaman Sea after being hit by a sudden tornado, according to crew and survivors.
"If we don't find the other missing soon we will send frogmen down to the boat to see if they were trapped inside," Wanlop told Deutsche Presse-Agentur dpa in a telephone interview.
The missing foreigners include three Austrians, two Swiss, a Japanese and a Thai man, said Beno Branden, a manager at the Dive Asia Company which runs scuba diving tours to the Similan Islands.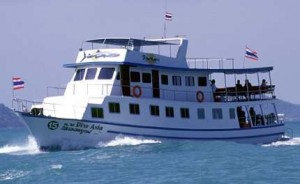 Thai authorities are using a helicopter to search the area where the boat sank.
"The whole affair took one to two minutes at the most," Branden said. "The captain said it was a twister. It was 2-3km away and then at the boat within a minute."
About 23 passengers, including 15 foreigners and 8 Thai staff, made it to life rafts and were rescued by a Thai fishing boat on Monday morning.
Most of the passengers were in the boat's saloon deck when the twister hit at about 23:00 on Sunday (16:00 GMT), about 30km offshore of Phuket Island, a popular Thai beach resort situated about 600km south of Bangkok.
It was unclear whether the missing passengers were inside the boat when it sank.
"We have relatively certain information that at least two of the missing people made it out of the boat because some survivors saw them and described them as going in the opposite direction," Branden said.
But the likelihood of them surviving at sea was deemed slim.
"Everything happened so quickly I don't think the people had time to take life jackets," Branden said.
Those picked up from the sea were reported to be well, with only sunburn and scratches.
The boat itself is advertised on the company's website as it's "luxurious flagship", with air-conditioning, a saloon, a bar, a multi-media centre and a large sun deck.
A typical tour takes scuba divers to the Similan Islands from Phuket, allowing them to dive all day and then sleep on the boat as it drives back to Phuket overnight, which takes 10 to 12 hours.
The Similan Islands, a national marine park, is one of Thailand's best-preserved scuba and snorkeling destinations. Hotels and guest houses are prohibited on the islands to conserve the environment.
* We want to thank Joakim Jarheden Clown Manager of Moskito Diving for threatening to sue us for adding the wrong photo. Thanks Joakim for your rude email ! We will keep you in mind any time we need to advise people where to dive in Thailand.