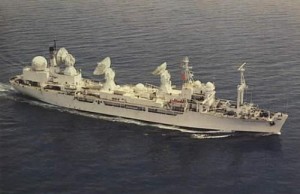 Project organizers, coordinating the conversion of a retired missile-tracking ship into an artificial reef off Key West, have narrowed the timeframe for the scuttling of the Gen. Hoyt S. Vandenberg.
We are now looking at a scheduled sink date between Tuesday, May 26, and Monday, June 1," said Jim Scholl, Key West's city manager and project administrator. "Last week we've had several regulatory agencies conduct intensive environmental inspections of the ship.

Overall, they are happy with the ship, but we do have a punch list we want to provide ample time for completion," he said. "Thus, we believe it is prudent to schedule the sinking after the Memorial Day weekend."
Officials originally projected a sink date between May 21 and June 1, after the Vandenberg arrived in Key West on April 22. The ship is to be scuttled about seven miles south of Key West in the Florida Keys National Marine Sanctuary. The coordinates of the proposed site are 24° 27′ N, 81° 44′ W, which is approximately 7 miles offshore from Key West.
The Vanderberg will be the world's second-largest ex-military ship to be deployed as an artificial diving and fishing reef.
More Scuba Diving News