For 17 nerve cracking minutes, a group of divers were rising to the surface because there was a 4.5m white pointer shark circling them.
Darrell Pillage an experienced diver of Belmont, told how the shark first approached them 37m below the surface.
It came so close during the Saturday afternoon ordeal that Mr Pillage said he could have touched it several times.
Mr Pillage, an instructor and six experienced student divers – some with electronic shark deterrents – had been out since 8am and were going for their second dive about 7km off Hillarys Marina about 1.15pm.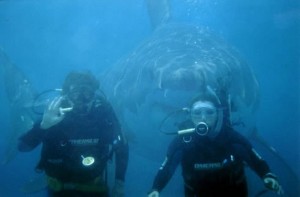 They encountered the shark when they reached the ocean floor.
Mr Pillage, who has been diving for 18 years, said he took two photographs of the shark as it circled.
But when he realised it was not going away, Mr Pillage decided to make an escape.
The 52-year-old offshore worker said he signalled to his fellow divers that there was a huge shark and they should swim to the boat's anchor chain before ascending.
He said the group stayed together and made a safe ascent.
Mr Pillage, a former diving instructor, said he had seen a few sharks before but they had always moved away.
"We initially thought it might be a bronze whaler but as we got closer it got bigger and bigger," he said. "I could have touched it a couple of times … I could have reached over and put a hand on it.
"When they come and start circling, it's time to bale. It certainly got the heart rate going."
Mr Pillage said he bought a Lotto ticket when he returned to land because he felt luck had been on his side.
He was glad he had not been diving alone on Saturday, as he often did.
"Luckily there was a group of us together," he said. "Otherwise it could have been a bad, bad day. Safety in numbers."
Dolphin Scuba Diving owner Callum Girvan, who was the instructor in the group, said the shark had not acted aggressively and nobody had panicked as they swam safely back to the boat.
He said he believed the shark had been in the area because there was a pod of minke whales nearby.
"It was a big beast," he said. "I was anxious and my heart rate was up … it was amazing."