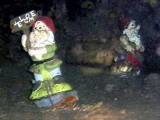 PADI or SSI? Who will fight and who will win this new market: Scuba Gnoming .
Yep, welcome to the Scuba-stupid news of this Friday! This time we go to Scotland, the land of William Wallace and … mmm Celtic Football club, and of course: Scuba Gnoming, the underwater gnomes!
Because an Edinburgh architect (with a lot of time off and obviously with not to many real friends) is championing an unusual underwater craze. It is called scuba gnoming, and it involves miniature, bearded, ceramic men underwater. Mmm it sounds amazing, doesn't it? (NOT)
Edinburgh man Gordon Mackie is, arguably, the world's number one proponent of scuba-gnoming – the practice of adding a little piece of German kitsch to the sea bed to brighten up the lives of other divers.
Yep, I know what you are thinking, just think of the potential.
Underwater Wreck Gnoming ?
Scuba Gnoming Rescue Course ?
Drift Gnoming Diving?
PADI Gnoming Divemaster Course?
These poor Scottish diver, claims to have planted no less than 200 gnomes in the world's waterways. But Gnome Central has to be a sacred spot in Scotland's own Loch Fyne, where up to 50 of the little blighters Gnomes underwater have formed a ceramic shrine, a sort of elfin Atlantis .
So I bet you feel better about your life now. Don't you?
More Scuba Diving News